Founder—Michael R. Campo
Michael R. Campo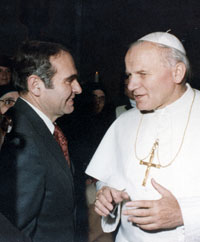 September 15, 1923–January 20, 2017
Michael R. Campo (John J. McCook Professor Emeritus of Modern Languages and Literature, Trinity College; Trinity College '48) was an academic entrepreneur per eccellenza and one of Italy's greatest informal ambassadors. In the 1950s he introduced Italian into Trinity's curriculum. In 1956–58 he was instrumental in establishing the Cesare Barbieri Endowment for Italian Culture at Trinity. In the ensuing decade he was editor of The Cesare Barbieri Courier, a lively journal of Italian culture. In 1970 he founded the Rome Campus. In 1981 he co-founded Trinity's Elderhostel/Italy program, a flourishing enterprise of educational travel for senior citizens with program sites throughout Italy. In recognition of Professor Campo's accomplishments, Italy named him Commendatore della Repubblica.
A memorial service for Prof. Campo was held at Trinity College Chapel on February 4, 2017. Borden W. Painter, Jr. (president emeritus of the Barbieri Endowment) delivered the principal eulogy, the text of which is presented here (PDF).
Professor Campo is shown here with Pope John Paul II, on the historic occasion of the Pope's visit to the Rome Campus.